"The Carabao" Marketing Partnership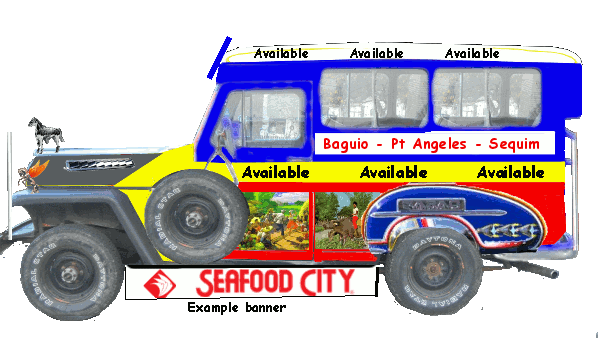 The Carabao is a jeepney made entirely here in the United States which is in the process of being converted from a Willys Wagon, much the way the orginal jeepneys came into being from old Willys jeeps. It will be completed in the summer of 2013 and begin making appearances at car shows, Filipino cultural events, and parades after that. Events will be throughout the Western United States.
It is a 'Baguio style' jeepney in that it has doors and windows (and heat), since it is based in Washington State. This will allow it to make appearances year around. We foresee it being used to carry festival royalty in parades, as an attraction at outdoor events, for Filipino cause fundraising, and as a focus of attention. It is a great advertising vehicle as it is targeted marketing directly to the Pinoy community in a beloved form. It is certain to be a much photographed vehicle, which will multiply your marketing impact. It is supported by a website, http://www.usjeepney.com
In order to finance these appearances, we are seeking marketing partnerships with Filipino oriented organizations and businesses.
Current partnership offerings (all for period of 1 year beginning 01 July 2013):
Rattan: $100 partnership level – Ad on the website, sponsorship mentioned in flyer handed out at events, listing on sponsorship plaque inside vehicle.//
Bronze: $500 partnership level – All of the Rattan, PLUS 4" x 4" name on side of jeepney (yellow stripe or roof placement).
Silver: $2000 partnership level – All of the Rattan, PLUS 16" x 8" name on both sides of jeepney.
Gold: $7500 partnership – All of the Silver, PLUS name or logo on front, PLUS rotating rocker panel banner along bottom sides PLUS 9"x12" ad inside vehicle, PLUS distribution of your ads in pocket on vehicle.
Diamond: $10000 partnership – All of Gold plus banner exclusivity (no other bottom banners)
Platinum: $25000 partnership – All of the Diamond PLUS jeepney custom repainted in your colors and logo.
Sponsors will receive updates on schedule and appearance reports on a frequent basis.
Please contact me as soon as possible to secure your placement.
Steve Veltkamp, Owner/Operator
USJeepney.com
360-452-2418
steve@usjeepney.com